28 Apr

Taking a Closer Look at TAG's Core Values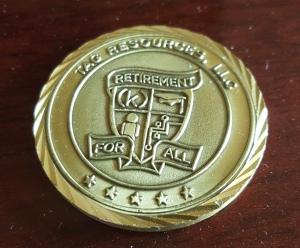 TAG's commitment to plan management is recognized as top tier in the industry, and this is no accident.  Simply put, we do 401(k) differently and with passion.  A key ingredient in our success formula lies in much more than numbers and inputs.  We believe in the "Why" behind our business model, not just the "What."  Simon Sinek in his global bestseller Start with Why asks the following questions:  "Do you know your Why? The purpose, cause, or belief that inspires you to do what you do?"  At TAG, we know and live our "Why," and it all starts with our core values.    
These values represent a company culture in which great things happen because we take each aspect and internalize them.  Honor, dignity, empowerment, integrity, and excellence — all of these represent the heartbeat of our company.  Let me briefly go over each concept and how they apply to TAG.  
Honor.  We regard each employee at TAG with high esteem and respect.  We take care of each other, we want to make 401(k) management fun and a chance to build friendships and enjoy the workplace.  Similarly, we honor our clients and build upon the TAG reputation as the retirement service company of choice.  We go that extra mile for the client because they deserved to be honored.
Dignity.  Our employees have a strong voice; we value their opinion in making operations even more smooth.  Every process has room for improvement, and we listen to all ideas.
Empowerment. Empowerment is based on the idea that giving employees skills, opportunity and motivation will contribute to their competence and satisfaction.  Holding the team responsible and accountable for outcomes of their actions allows each member the initiative to make decisions and solve problems at the lowest level.  This empowerment attribute delivers tremendous benefit–we improve service to our clients and improve performance throughout the organization.
Integrity. Webster defines integrity as "the quality of being honest and having strong moral principles; moral uprightness."  When it comes to our business processes — from fiduciary liability to compliance issues and everything in between — we are the industry model.  Time and time again we are often imitated but never replicated. Integrity is at the front-end of every document and procedure internally, and every phone call externally.
Excellence. TAG is the premier 401(k) management company, and we strive to maintain that dominance through excellence.  Vince Lombardi sums this concept in saying "Perfection is not attainable, but if we chase perfection we can catch excellence."  This excellence is continually reinforced by focusing on optimizing the customer's experience, keeping our employees positive and proactively engaged, and constantly improving the plan administration process for both advisors and sponsors.
These 5 core values have strong dual meanings for the TAG culture, as each one of them has both an internal component (our team) and external component (our client).  Whether you are a member of our team, a financial advisor, or a plan sponsor, we endeavor to show these qualities in all that we do.  At TAG when you partner with us you are getting more than a 401(k), you're getting a team that is committed to transforming the industry.